Welcome to IGGPPCamp!
Our 8th annual camp will take place August 12 – August 15, 2021!

IGGPPCamp is an online camp run by the IGGPPC [International Geek Girl Pen Pals Club]. For one long weekend during August, we all get together online and do lots of fun things – including watching movies together, making s'mores, playing games on Discord, telling ghost stories, learning new things through awesome video tutorials, making friendship bracelets, building forts, and so much more. Think online convention meets scout-camp! Not sure what Camp is or how to join in? Check out our Camp FAQ page.
Camp Bulletin Board
IGGPPCamp 2021 Registration is OPEN NOW!
Sign up HERE to be sorted into a Troop!
Registration is open from July 30 – August 5, 2021. You will receive your Troop assignment a few days after Registration closes.
The theme this year is IGGPPCamp OF LEGENDS. We've made it broad on purpose, so it can include anything from epic quests to legendary creatures (dragons! kirins! kelpies!) to heroic stories from around the world!
First time Camper? Check out the: NEW CAMPERS GUIDE
Stay tuned on social media and bookmark this page for updates!
The 2021 IGGPPCamp Handbook is here:
Introducing the 2021 IGGPPCamp Troops!
Learn more about the Troops and Counselors!
What's a Troop? Troops are an additional way to participate in IGGPPCamp! If you register prior to Camp, we will sort you into one of 3 Troops, each with a unique theme, to get to know a smaller group of campers. Troops often have additional activities and hangouts and have a ton of fun! To learn more about IGGPPCamp, check out our FAQs.
The 2021 Camp Store is now open!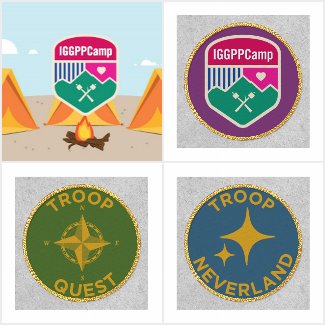 IGGPPCamp 2021 
by Geek Girl Pen Pals
(clicking the link above takes you to Zazzle)
Camp Pride Badges
Put a badge on your website or blog! Be sure to link it to geekgirlpenpals.com/camp
---
The Latest from IGGPPCamp:
IGGPPCamp 2021 is coming soon!
Joanna and Summer of Geek Girl Pen Pals chat about the history of IGGPPCamp and what's happening this year at Geek Girl Pen Pals' biggest annual event.