If you haven't met your House Prefects yet, stop by your Common Room and say hello!
March is Women's History Month, and we wanted to share with you a few of the women who inspire us!
House Granger: @HouseGranger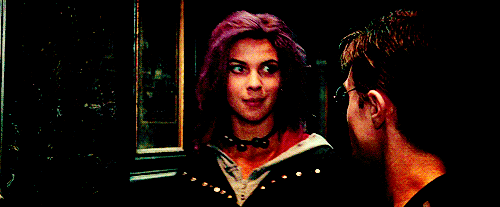 Rae: @softgrungequeer Inspiring Woman: Nymphadora Tonks
I'm a 22 year old college senior with a double major in Women's & Gender Studies, and French, and when I graduate I hope to continue to work as an activist as my career path. I'm from Buffalo, New York, and I love my hometown. I've been pen palling for about 4 years now, and a member of IGGPPC for about a year, and now I am a House Prefect for House Granger!
One of the women that was definitely formative for me was Nymphadora Tonks from Harry Potter. Harry Potter was instrumental to my childhood, and I was obsessed with it when I was younger. When Tonks was introduced in the books, she was really important to me because I was always sort of a weird kid when I was younger (and still am honestly) and she owned her weirdness in a way that was so confident and inspiring and that inspired a lot of my own confidence in who I was and to own my own weirdness. She was also really successful in her career and she always stood for what she believed in. She was very important to me, and of course still is.
Leah: @LeahRFrazier Inspiring Woman: Mindy Kaling
I am 18 years old and from St. Louis, Missouri. I am graduating high school this year and next year for college I will be majoring in graphic design. I am a prefect for House Granger. This is my first year doing the pen pal program and being a prefect. I chose to be a prefect because I wanted to get more involved with the IGGPPC and thought that would be the best way.  I also have always wanted a pen pal and when I saw IGGPPC on Facebook I just immediately wanted to join!
Mindy Kaling is inspirational because she is an independent woman and she was the first female writer for The Office at the age of 24. She also inspires me because in 2013 she was one of Time Magazine's 100 Most Influential People. Her quote: 'If you can get them to yell at you, then you know that they're treating you like an equal and not like a girl.' made me feel brave. It's the quote she gave Jenna Fischer (the leading female of The Office) to help her be heard in the writing room, proving that a woman can be heard as long as you have a strong voice and take control. I also love her because in a sense I feel like we have the same personality because she hates words like "no homo" and "girl crush." I also feel like I can really relate to her characters she has played, like Kelly Kapoor or Mindy Lahiri. Mindy Kaling also proves that marriage isn't everything, because Mindy Lahiri in The Mindy Project doesn't start dating until after graduating college. She also starred in some of my favorite animated films, like Despicable Me and Wreck-It-Ralph (Taffeta). I feel she is a good role model to girls because she does confront women's issues but also kind of makes fun of the way women act in today's society. She shows that you can be different even if that means you are a little weird.
House Quinn: @HouseQuinn_
Kristin: @xbeautyxtruthx Inspiring Woman: Angelina Jolie
Hi Iggles! I'm Kristin (I also go by KCK), and I'm a Prefect co-pilot for House Quinn. I'm from Pittsburgh, PA, I'm 26 years old (27 in April!), and I'm a film major. My nerdy loves include Marvel, Doctor Who, anything scifi/horror/fantasy, photography, and cats!! I'm also a feminist, which brings me to the woman who inspires me the most: Angelina Jolie. She's the one who showed me that it was okay to be weird, as long as I'm myself. The work she's done in film and in the real world for women, children, and for people around the globe is truly amazing. She dances to the beat of her own drum, despite being in such a public profession where women who aren't quite the norm are often-criticized, and I really admire that. I can't wait to meet you all and hear about the women you look up to!
Kacie: @KacieCruise Inspiring Woman: Taylor Momsen
I first knew of Taylor Momsen from her role as Jenny Humphrey in the CW show Gossip Girl (and she also played Cindy Lou Who in How The Grinch Stole Christmas with Jim Carrey). But she knew since she was a child that she wanted to make a career out of music, and when she was given the opportunity to pursue music she went for it head-first with no looking back. Her music didn't line up perfectly at first but she kept at it, and now they've released hit rock singles, 2 full albums, 2 amazing EPs and multiple music videos, some of which Momsen directed herself. I admire her because she is fearless; she sings about whatever she wants, she'll wear whatever she likes, and she's not afraid to show people who she truly is. I relate to that as a fellow weirdo, and Momsen shows me that I have to own my uniqueness and not be afraid to show it off to the world.
House GlaDOS: @HouseGlaDOS
Sophie: @lomwod Inspiring Woman: Debbie Sterling
Hey, I'm Sophie, 27, and I'm from Surrey, UK. I have an 8 year old daughter and a boyfriend of 4 years who also acts like an 8 year old. The woman I have chosen to call my inspiration is Debbie Sterling. Debbie is an engineer and the CEO of Goldie Blox, a range of toys aimed at girls focusing on construction, engineering and science. It is estimated that only 15% of engineers are female, and I want to be one of them. I did engineering at college but never finished my course as I found being a young single mother too hard at the time. Debbie inspires me to work towards finishing college and entering the profession I love the most. And if Goldie Blox can inspire a generation of future female engineers, this can only be an amazing thing.
Katie: @KayTeh24 Inspiring Woman: Sue Perkins
Sue Perkins is known for the Mel & Sue comedy duo, Great British Bake Off, and Supersizers.
From my early teenage years, I began to watch The Supersizers and got thrust into the world of history, gluttony and comedy (all rolled into one fabulous ball of goodness!) At that moment, I first lay my eyes on the beautiful being that is Sue Perkins. She taught me how to both let my geek side show and to be proud of it. Along those years, I struggled with my sexuality, and through her courage and pride, I found my own. She's truly an inspirational figure to me now – and a gorgeous one at that!
House Organa: @HouseOrgana
Franny: @Raindrop487 Inspiring Woman: Mrs. Molly Weasley
I believe in unicorns, magic, happiness, and rainbows!  I love pink, glitter, and sparkles.  My obsessions include stickers, washi tape, and Sharpies. (There is no such thing as TOO much of any of these items!)  Lisa Frank is my inspiration!  My philosophy is:  Don't let the Muggles get you down!  Top 5 Geek Loves:  Harry Potter, Unicorns, Dr. Who, Princesses and Magic, Old School Video Games.
A woman who inspires me is Mrs. Molly Weasley from the Harry Potter series.  The thing that I love most about Mrs. Weasley is her undeniable love for her family.  Family is very important to me, and Mrs. Weasley goes out of her way to keep hers safe and happy while working hard to meet all of their needs.  She happily accepts others as her own and welcomes them into her family.  I imagine all iggles as the Harry Potters in my Weasley family.  I want to be like Molly Weasley and show them the love and encouragement that they may need.
Amanda: @amavongeek Inspiring Woman: J.K. Rowling
Hi! I'm Amanda. I love the IGGPPC community and am super excited about the opportunity to serve the community as a prefect. I am a little bit monster obsessed, and you can usually find me with my nose stuck in a book. I'm a mom, a wife, and a geek and I love being all three! (See, it's not all over once you hit 30!) I enjoy encouraging others to embrace their geekiness, whatever that may entail.
I chose J.K. Rowling as my inspirational woman for a couple of different reasons. The first, and most obvious, is that she's an amazing writer. Writing is something that I love to do, and seeing success stories like hers is a good motivator for continuing to write. The Harry Potter books are ones that I have read multiple times, and I love that they contain characters that almost everyone can relate to in some way – most of the people who have read them identify with one particular character that they see themselves in…and the vast majority know what Hogwarts House they would be a part of! (Gryffindor, baby!) In addition to that, I love that when Ms. Rowling became successful she did not forget where she came from. She has donated significant portions of her income to bettering the community that she came from and the world in general, and that is something I greatly admire.
That's all from us for now.
We'd love to hear from you: What women inspire you most? Is there a woman in your past that you would credit with propelling you toward a better version of yourself? (Or several?)
Xoxo,
Your Prefects